Login
Register
Prince of Persia Warrior Within 240x320 jar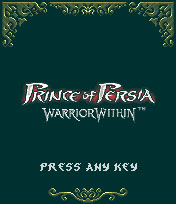 File Type:
jar
Upload Date:
Fri, 10 Sep 2021 (11:31)
Vendor:
Gameloft
Name:
Prince of Persia: Warrior Within 240x320.jar
Uploader:
admin
Download count:
2
Size:
221.4 KB
Description:
A few years after The Sands of Time, the Prince is back home. But by staying alive, he has changed his destiny, and the Empress of Time is hunting him down. The latter has set an evil army on his trail. The Prince embarks on a pirate ship for a mysterious and perilous voyage to defy his fate, going to the place where' the Sands of Time were born and finding a way to travel through time and prevent them from being created. His quest leads him into ancient, accursed palaces that conceal the ancestral fears of the human race.

Share This Page


HTML Code:


BB Code:




Home

Upload File

User List

About Admin

Order A Website